How to find the best investment in a seller's market
Berlin is one of the hottest property destinations in Europe. Prices are still low compared to other capitals, even though a sharp rise has been experienced over the next couple of years.
Now, Berlin is a seller's market. For every single property put up for sale, there are lots of buyers and as such, sellers will dictate their terms. For property investors, this implies having to agree to terms that may not be entirely suitable or having to agree to pay more than the asking price.
Working with someone providing insight in the property buying process as well as bringing valuable industry contacts to the negotiation table, proves an indispensable advantage for securing a property.
In such a competitive market, a buyer service like GATE Berlin, can be essential in.
finding the best value for money
advise on the pros and cons of each location and importantly, carry out due diligence
handle the entire transaction for foreign investors
support those locals who are reluctant to undertake the time-consuming property purchase process themselves
---
What are your investment targets?
Factors of an apartment purchase
Apartments on a permanent lease agreement are often 20% to 30% cheaper than if being vacant. The price will be lower since it is correlant with the rent received, due to the lease agreement in place. For various reasons, the demand for buying vacant apartments is much higher. Especially in better locations or in some stately Victorian buildings the rent received will likely be below average.
It all comes down to the individual investment strategy whether you would like to benefit from immediate positive cashflow or prefer to go for capital appreciation and suitable returns long term or a combination of both.
Mitte, Kreuzberg-Friedrichshain, Charlottenburg-Wilmersdorf, Prenzlauer Berg, and some parts of Schöneberg are locations achieving the highest prices investors are willing to pay per square meter in Berlin.
However, investors quite often work with property prices paid in the past and expect to base future projections on such trends. In the last 7 years, the middle and high segments of the property market have shown more growth and higher demand with an increased amount of properties on offer. The lower end of the market, just shows an increase being about a half of this.
Apartment prices 2020/21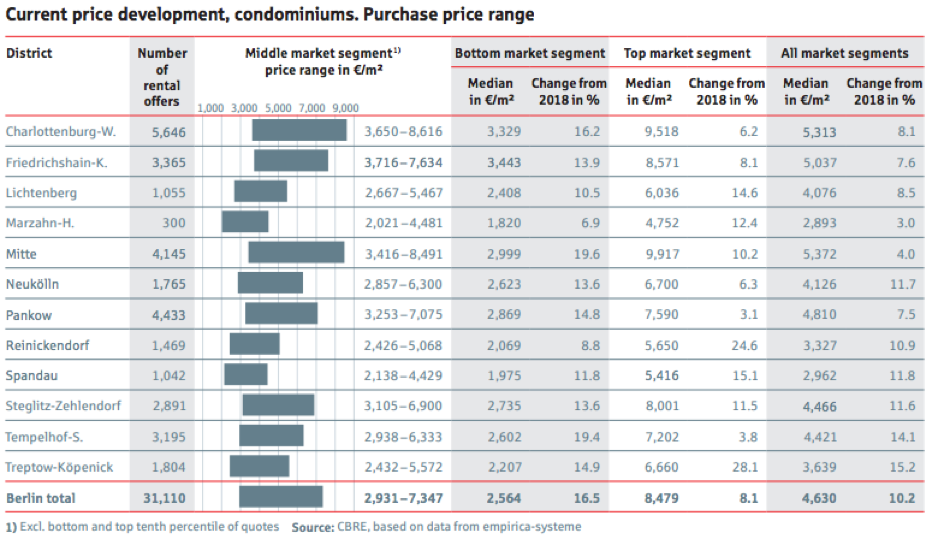 ---
GATE Berlin Services
Investors service package
BRIEF & STRATEGY
Initial consultation to determine your investment strategy and identify opportunities in Berlin's actual real estate market or selected A, B + C cities. Advise on how your targets and criteria can be matched in the current market. Analyse your available equity and run a pre-approval, on whether financing would be possible. Define your Loan to value (LTV) factor and calculate required equity.
SEARCH & BENCHMARK
Search and presentation of sourced investment properties, analyse relevant criteria including calculation of potentially achievable yield, outlook and estimated appreciation of value. Benchmarking of short-listed properties by implementing GATE Berlin methodology.
SHORT LIST & EVALUATE
Properties short-listed to be set against further criteria regarding the building's quality and condition, rents received, risk factors & optimization potential, lease agreement, owner community information, repairs et cetera. Inspection of properties and checking relevant data.
FINANCING & PURCHASE STRUCTURE
Finance at optimum conditions through our bank partners. Prepare personal and property data to receive bank approval for financing before notarization. Outline on whether to purchase as a private investor or by implementing a company structure. Support will be available in setting up required structure.
NEGOTIATE & SECURE
Negotiate purchase price, other costs incurred and terms related to purchase. Prepare and follow through with a binding reservation on your behalf, if required.
SETTLE
Settlement of acquisition via a selected notary, possibility to find one in your mother tongue. Signing on your behalf with power of attorney. Advice you on all steps and payment after the notarization and manage the whole process.
MANAGE & OPTIMIZE
Owner's representation, lease and property management. Check on building's management, adjust rents, chase arrears, optimize return, manage rent accounts, organize repairs, avoid and resolve problems with tenants, point of contact in your mother tongue if required.
---