Tell us your preferences!
Berlin's residential property and apartment markets are still growing and demand in the housing market is going up with it
The new development boom continues and has even moved markedly upwards. Foreign investors might consider a vacant apartment to partly self-use or to rent out furnished. Thus keeping the apartment vacant long term while generating higher profit from the temporary lease. Tenanted apartments are often substantially cheaper. Only, self-use termination according to German legislation will often turn out to be time consuming and sometimes tricky.
Shall your apartment be available to live in immediately, then purchasing a vacant apartment is the way to go.
For owner-occupiers, installments paid on a long-term mortgage at times can turn out to be lower than rents payable for a comparable apartment.
---
What property are you looking for?
Finding your suitable home
GATE Berlin is one of the first real estate services primarily operating for you as a buyer. We find - your suitable apartment be it a typical old Berlin style condominium, studio or a modern new development.
We have access to all Berlin developers and a huge network of contacts in the industry. GATE Berlin can assist you in your apartment's fit-out, furnishing and renovations. For those only occasionally in Berlin, our owner representation service sets up a reliable structure dealing with any issues regarding your property, as well as looking after your home while you are away.
Before we start our search, we will work with you to define exactly what criteria are to be fulfilled, to be able to deliver the exact match for your dream property. The personal brief shall cover:
general micro location (within a district)
position in the building
balcony or terrace required
new construction or charming pre-war building
your anticipated budget & your equity available
cash buyer or financing required
Depending on your financial situation, we will bring clarity into your preferences, as to which are more important to you than others and where you will have to be more flexible and have to compromise, so we are able to match your budget with the market.
Should you now be curious and would like to know more - please contact us!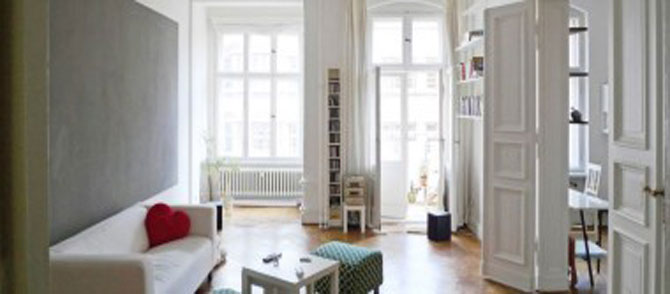 ---
GATE Berlin Services
9-step buyer´s service package
BRIEF
Initial consultation to determine your preferred criteria while setting your financial status against them. Advise on how individual self-use criteria can be matched in the current market
SEARCH
Search and presentation of custom-searched properties including those from hidden market or private auctions
SHORT LIST
Short-listed properties will be set against determined criteria, building's quality, micro location, conditions, other costs likely to be expected
INSPECT
Guided tour or detailed fotos and videos of location/building/apartment
EVALUATE
Check documentation regarding property and purchase process and evaluate condition of building/ apartment
SECURE
Negotiate purchase price and other costs and terms related to purchase
FINANCE
Pre-approval of financing in relation equity and personal circumstances, if required. Finance at optimum conditions through our bank partners (subject to status)
SETTLE
Settlement of acquisition via a selected notary, possibility to find one in your mother tongue. Signing on your behalf with power of attorney.
MANAGE
Point of contact in Germany to receive and to deal with mail from i.e. authorities, banks, notaries. Property and lease management. Furnished rental, fit-out and furnishing.
---