Residential & commercial buildings
Demand for apartment blocks is on the rise
Berlin's residential property and apartment block markets are experiencing an overwhelming boom.
Apartment buildings in Berlin are becoming increasingly scarce and considerably more expensive. According to market studies from CBRE, in the first three quarters of 2016, around 1,000 properties were registered for sale, compared with fewer than 1,500 in the same period of 2015 and similar numbers in 2014. At the same time, the average asking price has risen to €1,947 per square metre – an increase of 18.5 per cent in only one year.
Apartment blocks in Berlin are a rare commodity. Fewer owners want to sell, while there is growing interest from potential purchasers. Private and institutional investors are betting on the continuing growth of the city.
Especially institutional investors are pushing more and more into this competitive market. Due to momentarily low interest rates and less rewarding investments in other areas, also primarily smaller objects for less than €5 Million have come into the focus of these investors. Another contest takes place between long-term-oriented investors and apartment block dividers. Dividers of apartment blocks will purchase objects to optimize and then sell individual apartments quickly while making maximum profit. Long-term investors on the other hand, are often being left behind. They should accept paying a higher price or focus on objects in "Milieuschutzgebieten", where immediate selling after division of apartment blocks has recently been made nearly impossible.
---
What is your investment strategy?
Factors involved when buying a block of flats
Purchasing an entire building will often result in being more financially beneficial when compared to buying single apartments or apartment packages. The property management and maintenance costs can be lower in comparison to those for single apartments. However, the new owner of an apartment block will have to build a maintenance reserve from the scratch after purchase.
Modernization and especially renovations for optimizing the energy consumption of the apartment block, can be tailored in a way, tenants are to pay their share at annually 11% of the costs incurred. Whether and to what extent a modernization potential exists, is to be analyzed in the due diligence process beforehand.
Sufficient potential can sometimes justify an initially higher purchase price. Apartment buildings, "Mietshäuser", are calculated using the factor of the block's yearly net rent. What has been considered the main scale is now increasingly to be replaced by the sqm price. Both parameters are to be used for an evaluation. In case the previous owner did not increase the rents for a long time, then a combination of sqm price and purchase factor is to be used.
It has become more difficult to buy blocks offered below a factor of 20. Buildings from the 50's to 70's, blocks lacking constant maintenance or in blocks in Berlin's periphery are scarcely available in the range of a factor between 16 to 20. The average factor inside the S-Bahn ring usually will vary between factors 20 to 25. In preferred residential locations, i.e. high density of pre-war apartment blocks, a factor can go up to 30.
---
GATE Berlin - professional investment advisory
We secure your purchase
A purchase advisory service like GATE Berlin, might be essential for the foreign investor and those without an industry network to succeed with their investment in the Berlin market. Finding the suitable property is only one aspect. Securing the deal can be difficult and requires tactical as well as well- placed strategic steps.
Define optimum strategy for each investment to unlock property's investment potential by developing a business plan. This is either to be immediate division of your property or long term investment - another aspect on why to use the professional services by GATE Berlin.
Average housing prices 2015/2016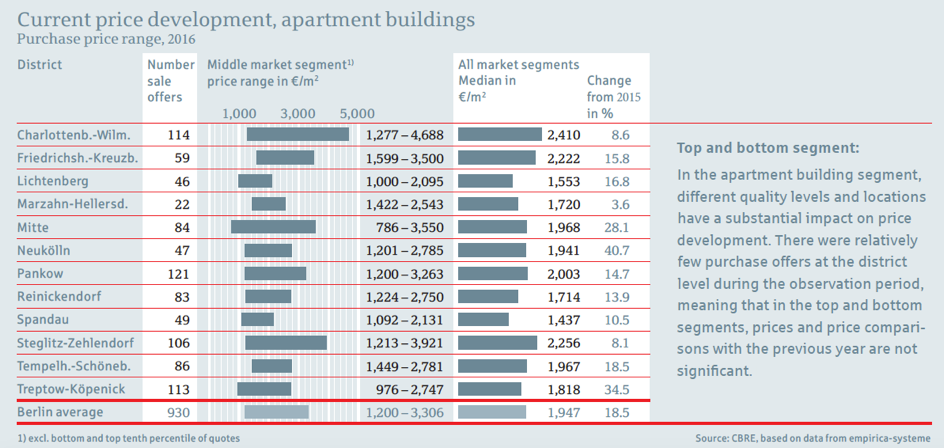 ---