Residential market trends
New development beats Berlin Victorian style apartments
Development activities in Berlin are still picking up. In 2015, 226 projects with a total of almost 17,600 apartments were analysed, according CBRE market report. In the following year, already 240 projects, with more than 22,000 apartments are scheduled to be built. Individual projects have become considerably larger and are mostly completely sold off-plan or rented out before the building process has been completed.
There is a wide range of asking prices for owner-occupied condominiums, starting from around €3,250 to over €10,000 per square metre in top locations.
---
The top four districts
The city-wide average asking price for existing condominiums has risen by 10 per cent in 2016, to € 3.289 per square meter. New developments start at € 3.250 in areas providing mainly family homes or in suburbs outside the S-Bahn ring. In central areas prices go up to € 8.000. In some top locations and for penthouses, prices already exceed € 10.000 per sqm.
There are four districts mainly representing the large condominium market in Berlin. The highest asking prices are being paid in: Mitte, Friedrichshain-Kreuzberg, Charlottenburg-Wilmersdorf and Pankow-Prenzlauer Berg.
Front runner for prices is Mitte
Average price in the four districts momentarily is at € 4,139 per square meter. In the historical center of Mitte, an average of € 7,500 per square meter is being asked. On the lower end of the market, such as Wedding and Moabit, prices below € 3.000 still can be found.
In the top segment, Friedrichshain- Kreuzberg ranks second with an average asking price of € 3,926. Charlottenburg- Wilmersdorf comes third, with a median asking price of € 3,713. In fourth place, with prices of €3,442 – slightly above the whole-city average – is Pankow-Prenzlauer Berg.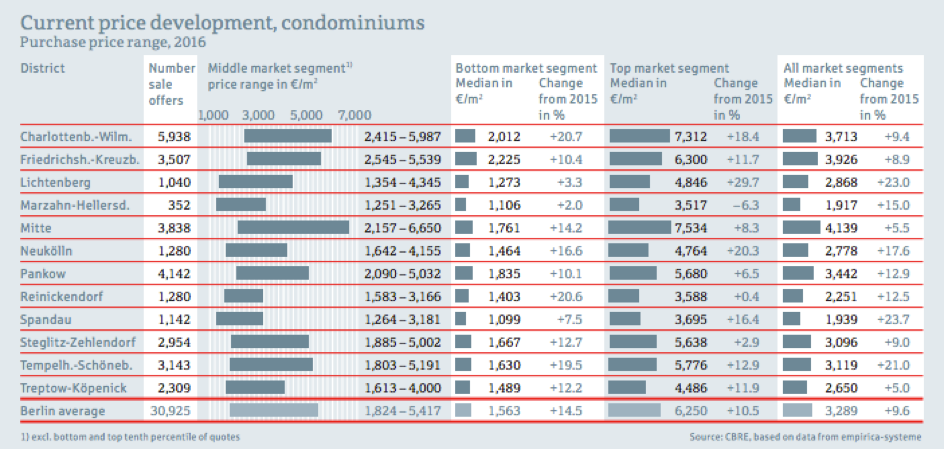 ---